Find the perfect Christmas gift can be tough, but a Christmas hamper from the Hamper Emporium could offer a simple alternative!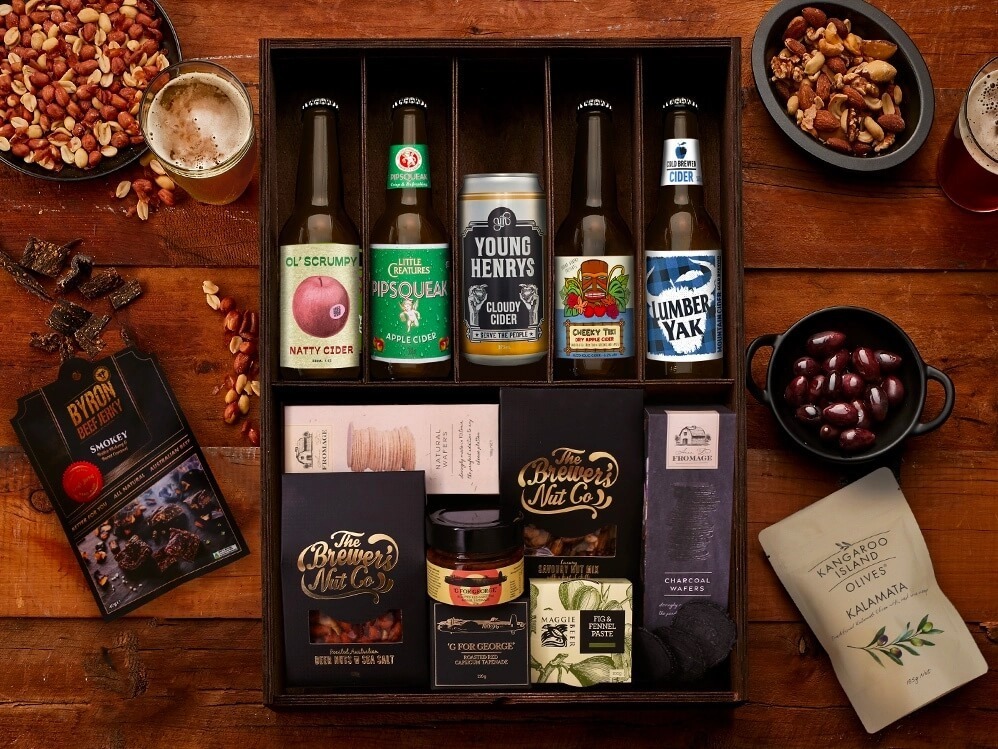 Who doesn't love a refreshing and crisp cider? This 2021 Christmas hamper is sure to be met with delight and is the perfect "treat yourself" choice for Christmas day. What's more, this hamper also comes with a range of premium snacks, selected carefully to best match these refined craft ciders perfectly. So, you can be sure that the cider lover in your life will absolutely adore this amazing Christmas cider hamper! Buy it here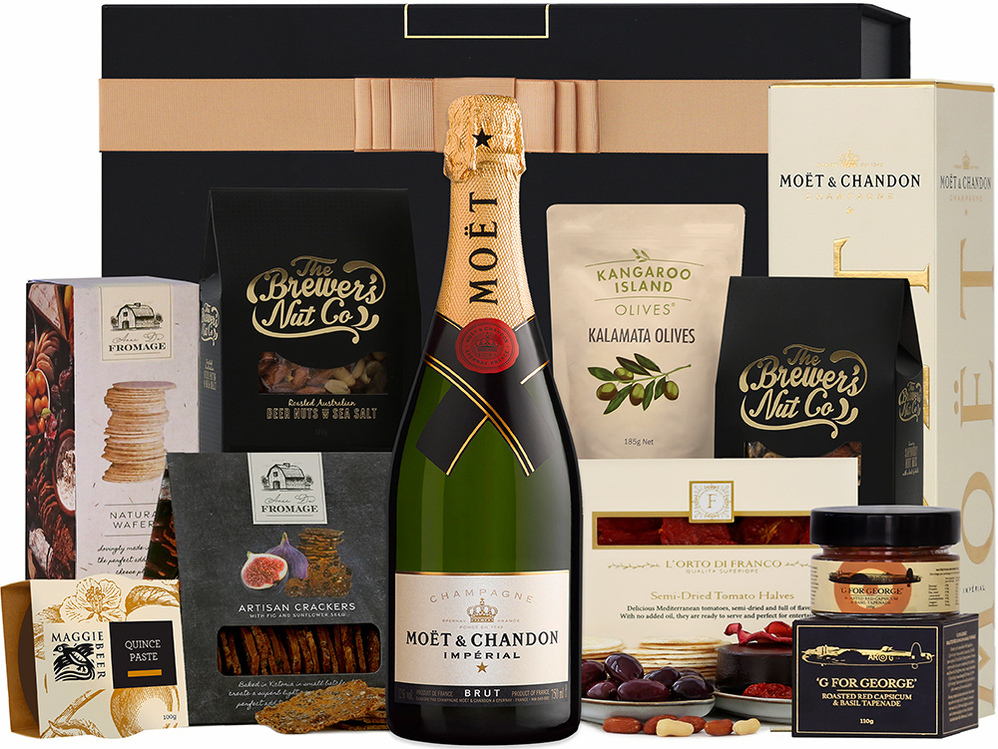 Featuring the finest champagne in the world and a selection of the most refined Australian snacks and nibbles, this Christmas hamper is sure go down a treat. After all, what better way to celebrate the festive period than with a bottle of the finest champagne around and the most sophisticated snacks on the market? Olives, nuts, crackers, and more – all perfect matches for one another!
To make a big impact, you don't necessarily need to make a massive gesture – and this 2021 Christmas hamper perfectly speaks of that. Sharing a bottle of the finest Cape Mentelle Sauvignon Blanc, while munching on the most delicious Cashew brittle, almonds, and peanuts, could make for an absolutely perfect Christmas.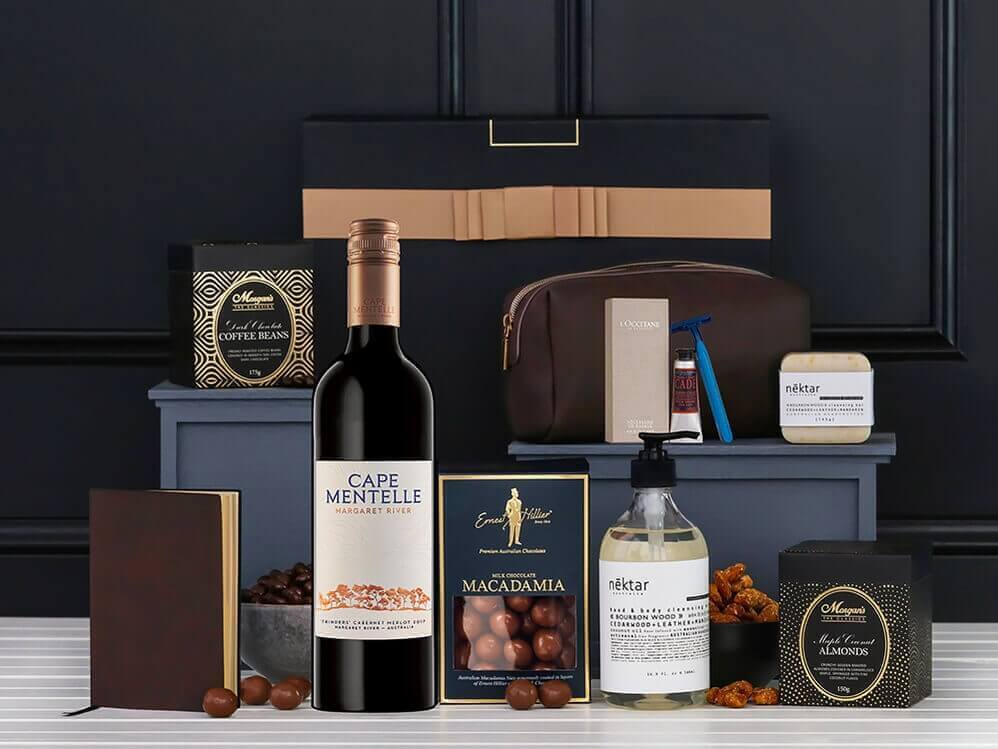 For that special man in your life, why not treat them to a day – or night – of ultimate relaxation for Christmas 2021? This Christmas hamper combines a bottle of Cape Mentelle Cabernet Merlot with some of Australia's finest men's skincare brands and a selection of irresistible sweet treats. After all, we all deserve pampering, and what better opportunity to thank him than on Christmas day itself?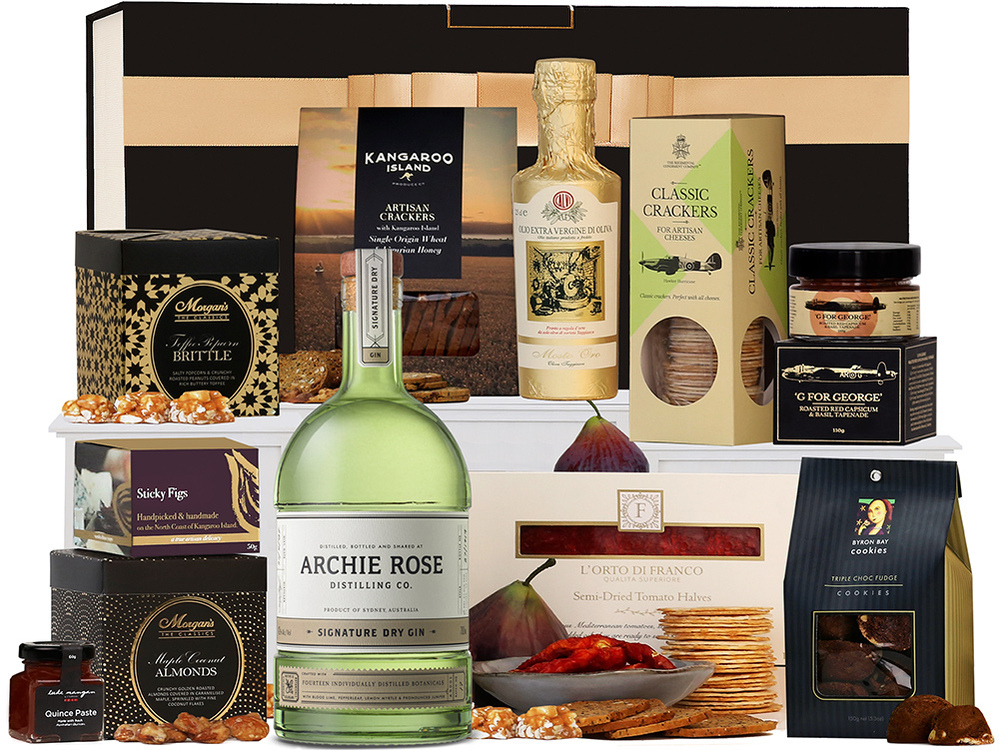 If you know someone who has a passion for gin, then this Signature Gin Foodies Hamper could be the perfect choice from our list of Christmas hamper picks, 2021. The hamper is a true Australian classic, featuring some of the finest treats, including triple chocolate fudge cookies, artisan crackers, handpicked sticky figs, toffee brittle, and more! Plus, the Archie Rose Signature Dry Gin is the ideal blend of traditional and native botanicals, making it a perfect choice of Christmas hamper gift if gin's their thing.
If you have cash to spend to make sure that your loved one knows they are quite literally the most important person in your world, then don't panic about how to choose a great Christmas hamper – The Emporium Hamper offers quite literally everything!
The hamper contains a wide selection of the finest wines and premium treats In Australia, and everything is packaged in a bespoke wooden box that's as much a centrepiece as the bottles themselves.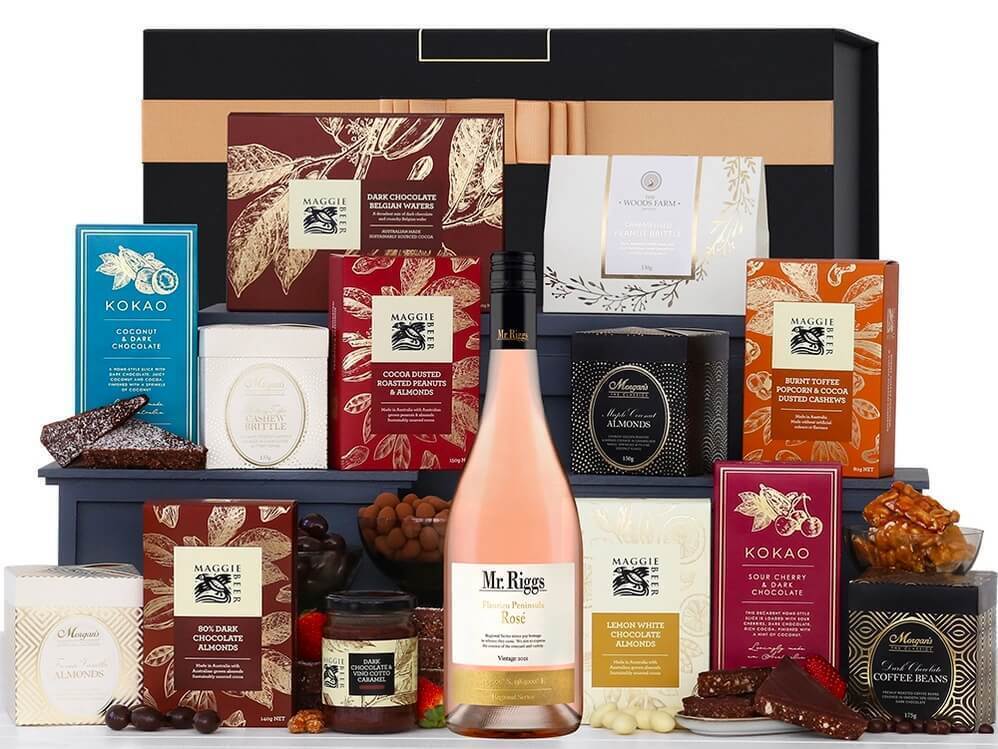 If you've been looking for the top Christmas hamper pick in 2021 for the sweet tooth in your life, then the Chandon Sweet Epicure Hamper is certain to be a perfect choice. Combining some of the most exquisite luxury chocolates and sweet snacks in Australia with a bottle of Australian sparling Chardonnay Pinot Noir by Chandon, this Christmas hamper is guaranteed to be the ideal treat that will undeniably thrill every chocolate lover!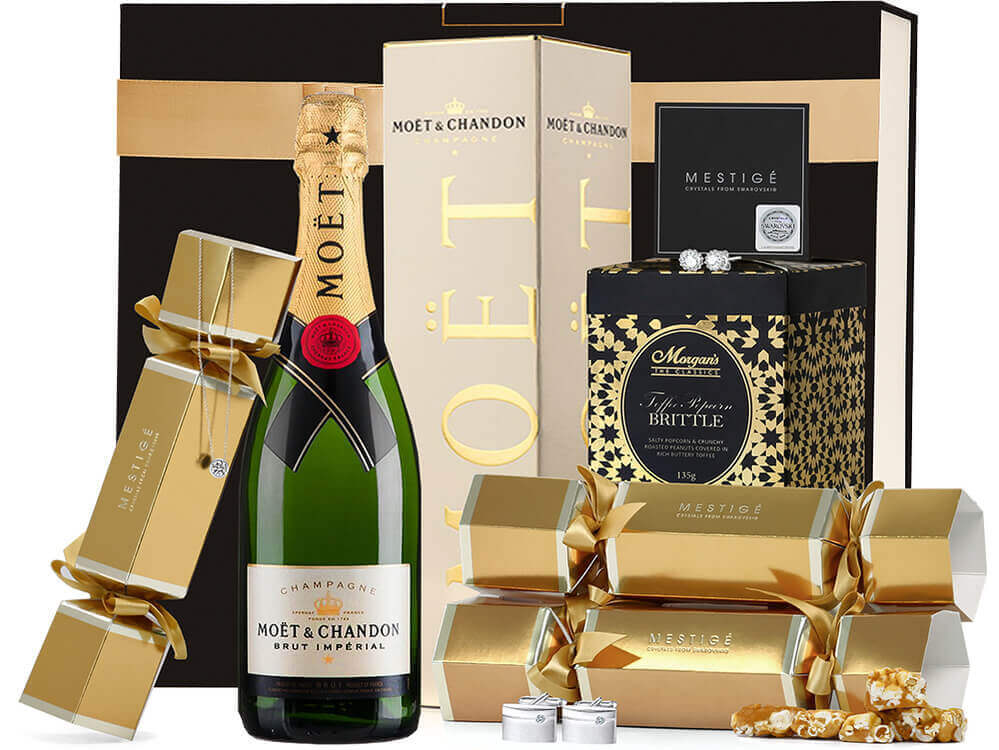 If you want to make sure your loved one knows just how much you adore them, then what could be better than a selection of exquisite champagne and stunning jewellery? Well, this unique and luxurious hamper offers exactly that, with a customised Christmas card to let them know just how much they mean to you, as well as stunning golden Christmas crackers filled with the most stunning jewellery options for her.
Plus, what better way to spend your Christmas day than with a delicious glass of Moet Champagne and some luxury Morgan's toffee brittle.
Few things make you think of "pampered" more than relaxing in the softest pale-pink satin robe and eye mask, surrounded by the soothing scents of scented candles and a glass of the finest Moet, while nibbling on some truly indulgent snacks including the richest chocolate berries and milk chocolate almonds.
In short, this women's Christmas hamper is one that's sure to let your friend or loved one know just how much you love them!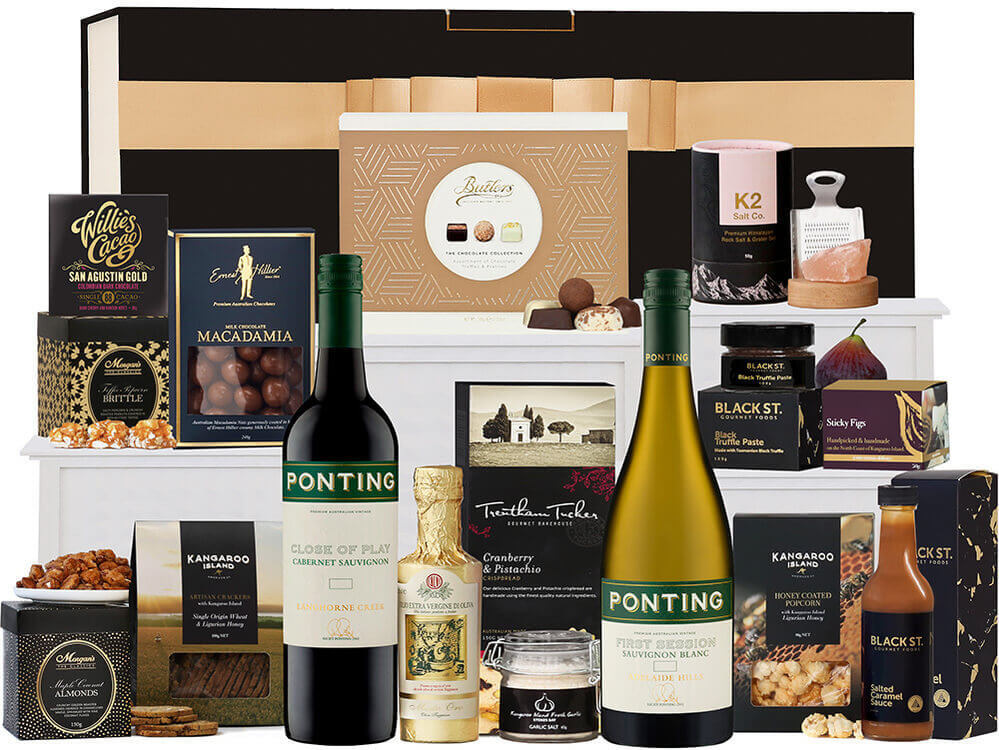 He's a legend on the cricket pitch, and now, Ricky Ponting has combined his skills with Ben Riggs, one of Australia's most renowned award-winning winemakers, to create a 2021 Christmas hamper that's sure to thrill. The First Session Sauvignon Blanc and the Close of Play Cabernet Sauvignon are sure to be an excellent choice, and that's before even considering the massive selection of snacks, and treats.
Salted caramel sauce, the finest macadamia nuts, artisan chocolates, and more! It really is the perfect Christmas hamper for any passionate foodie, and there's sure to be something that meets everyone's tastes for sure!
How to Choose a Great Christmas Hamper: Points to Consider
Before you begin looking for the ideal Christmas hamper, you should ensure that you have considered the following tips! Indeed, choosing a great Christmas gift doesn't need to be impossible, and a hamper can offer the ideal solution.
Always Check the Hamper's Contents
To choose a great Christmas hamper, always ensure that you have considered your recipient's personal preferences. To this end, knowing the exact contents of your hamper to make sure they match your loved one's preferences is vital. This might seem like an obvious point, but many people buy a hamper before actually considering what it contains.
So, don't fall into this trap; make sure you take time with your buying decisions to make the right choice!
Choose Hampers With Multiple Products
Of course, when working out the best Christmas hamper picks for 2021, you should also consider the variety of products within the hamper. A unique feature of Christmas hampers is that they contain multiple items, and this ensures that there'll be something suitable for every taste within the hamper.
So, before deciding on the top pick for your Christmas hamper purchase, make sure you've selected one that offers plenty of choice!
Try to Choose a Hamper That's More Than a One-Time Thing
Part of the delight in buying a hamper for your loved one is the fact that this offers multiple gifts for them, all in one bundle.
As such, if you can choose a hamper that's more than a one-time thing – for example, all of our hampers above are suitable for sharing over multiple occasions - you'll maximise the enjoyment your loved one gets from their gift.
Always Order Early!
It can be easy to put off ordering your Christmas hamper until the time arrives. After all, once you've chosen a great gift, you don't want your loved one finding it – we get it!
However, leaving things to the last minute can be a real issue, and those perfect hampers may have already sold out by the time you get around to looking. Don't let your selection be limited by "out of stock" labels; order early instead and make sure you're able to get hold of that perfect hamper.
Find the perfect Christmas gift can be tough, but a Christmas hamper from the Hamper Emporium could offer a simple alternative!
Disclosure: Some links provided in our articles are affiliate links. We may be paid a commission if you use these links to make a purchase.