Let's face it, most of us guys are absolutely clueless when it comes to choosing the right flowers for any occasion.
Sure, most of us know that roses are ideal for Valentine's day. But when it comes to Christmas, it is pretty easy to get it totally wrong. For example, did you know that Lillies are supposed to be reserved for grievances? Well, we didn't either, until recently.
Luckily, you no longer need to make the same mistakes we have. In this article, we're going to tell you all you need to know to make her Christmas special with just the right flowers for the occasion. We'll also show you exactly where to get them! It doesn't get much easier than this! So, without any further waffling, let's get stuck right into it! These are the 5 best Christmas flower arrangements out there.
1. This Christmas Poinsettia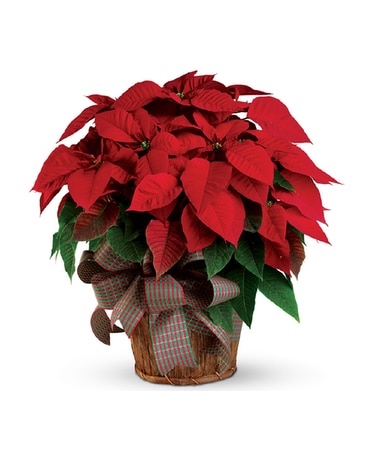 Kicking off with the flower that is perhaps the most commonly associated with Christmas, the poinsettia. These flowers make the ideal centrepiece at any Christmas banquet. Better yet, if you take care of them well, they can be brought into bloom again next year.
If you order from the link below, you can also choose to add in some extras, such as a plushie bear, a foil balloon, or some chocolates. For us, this is the go-to option for floral festive cheer. Order yours here and you can have delivery arranged in minutes!
2. This Designer's Choice Christmas Arrangement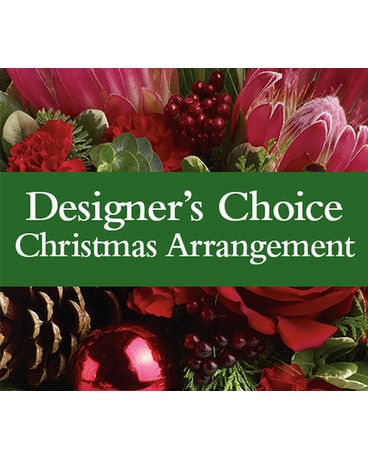 For some of you, this won't be your first rodeo. In fact, some of you may even have the gift of the "green thumb". If this describes you, why not aim to gift something a little more personal this Christmas?
This designer's choice Christmas arrangement allows you to effectively hand-select the flowers that mean something to the special woman in your life. So, if you manage to get this right, you are sure to impress! Prices start from $69.95 for the standard size and range up to $91.95 for the super-luxurious deluxe package. There's also an option to add chocolates, balloons, or a teddy bear into the mix too!
3. This Christmas Magic Arrangement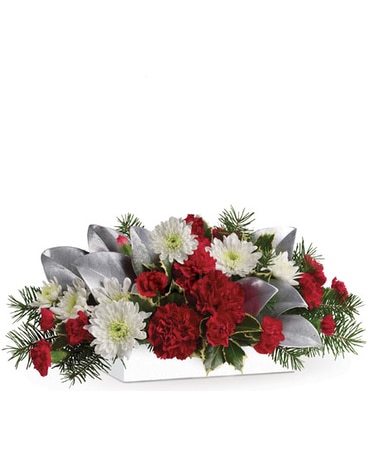 Let's get back into the super simple stuff. After all, picking the right flowers to impress her for Christmas doesn't have to be complicated. When you think about it, it is really just about choosing the colours that most match the season. In this case, that's going to be your reds and greens as a base. After that, you can add a bit of flair that screams luxury.
That's precisely what this arrangement does. Because of that, it makes the ideal centrepiece for the table or serves excellently as an adornment for the mantelpiece. To order yours, simply follow this link!
4. The Christmas Spirit Arrangement/Hamper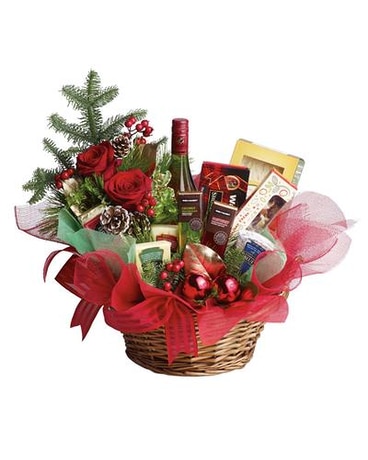 If none of the above arrangements has hit the spot, we are pretty sure that this is what you've been looking for. The festive season is about more than just the decorative elements, after all. Christmas is about decadence and indulging yourself with reckless abandon. And that's precisely what this arrangement delivers!
This aptly named hamper has everything you will need to add a sense of luxury to your Christmas celebrations. There's wine, rich nibbles to munch on, and a fresh and fabulous floral display too! For the ultimate decadent display, simply follow this link!
5. This Heart of Christmas Arrangement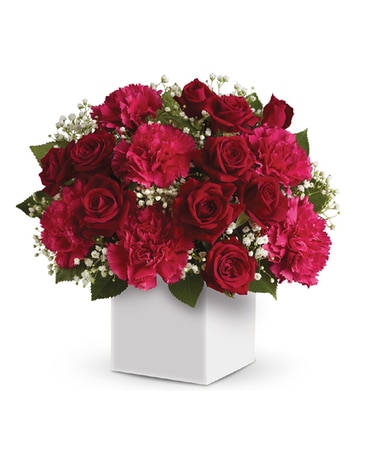 So, you've made it this far and still haven't found the perfect flowers for her for Christmas? At this point, the best way to play it is to go with something simple, yet beautiful. This Heart of Christmas hamper serves that up with aplomb.
By offsetting the red flowers in this arrangement with an elegant white box and some smaller white flowers, the effect is one of simple elegance. Better yet, you can choose to add some chocolates, a foil balloon, or even a teddy bear for a small extra fee. This arrangement starts at $83.95

5 Great Ideas for Christmas Flower Arrangements
That wraps up our rundown of tips to help you on your search for the perfect Christmas floral arrangement. We hope that this little guide helped you find what you were looking for, or at least gave you some idea where to start. Merry Christmas!
Disclosure: Some links provided in our articles are affiliate links. We may be paid a commission if you use these links to make a purchase.